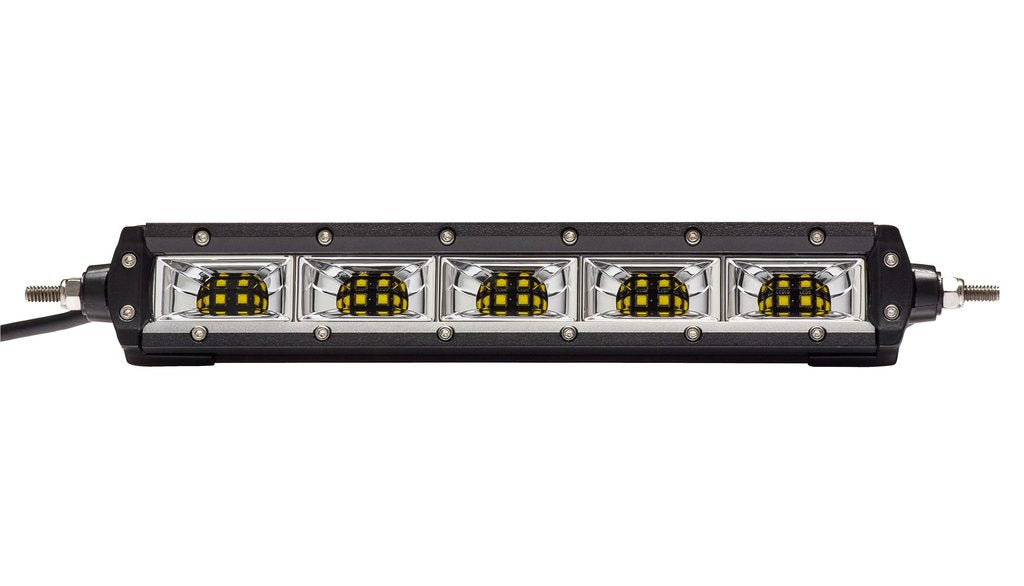 10" C-SERIES LED - 4-LIGHTS - 100W FLOOD BEAM - FOR M-RACKS - #9814
FEATURES
-4 x 100W 10" C-Series LED Area Flood Lights
-Designed to Fit Inside KC M-RACKS Roof Racks for Powerful Peripheral Lighting Output
-Durable Diecast 6063 Aluminum Housing
-UV Resistant Black Powder Coated Housing
-Dual Oversized Heat Sink Design for Cooler, Brighter and Longer Lasting LED Performance
-Gore® Military Grade Breather Membrane to prevent condensation and entry of dust/contaminants
-Optically Clear and Shatter Proof Lexan Lens
-Ideal for Illuminating Immediate Areas as a Scene, Work or Effective Backup Reverse light
-120° Scene Beam Pattern For Evenly Distributed Lighting
NOTES
-These lights do not include the mounting bracket and hardware kit for installation. This is intended to be used in conjunction with the SKU 98141 M-RACK Side Light Mounting Kit as well as the SKU 9200 M-RACK Universal All-in-One Wiring Solution
LIGHT PERFORMANCE (PER LIGHT)
-RAW Lumens: 4,410 lm
-LUX @ 10 meters: 800 lx
-Candela: 80,000 cd
-Beam Distance (Meters): 406m
SPECIFICATIONS (PER LIGHT)
-Wattage: 100W
-LED Source: CREE XMK
-LED Color: 6000K
-Amp Draw: 4.16A
-Voltage: 9V-36V
-IP Rating: IP69K
-Product Dimensions: W - 11.9" x H - 2.21/1.91" x D - 3.2"
PARTS INCLUDED
-(4) 100W 10" C-Series LED Area Flood Lights
OPTICAL PERFORMANCE AND LED EFFICIENCY
KC's C-Series LED Area Flood Lights utilizes ultra-wide 120-degree flood reflector optics to provide smooth and evenly distributed light across a horizontal field of vision.
DURABLE CONSTRUCTION FOR RELIABLE LIGHT PERFORMANCE
Constructed from a lightweight military-grade (US MIL-810-STD) IP69K rated sealed Aluminum Die-Cast Housing with shatterproof GE® Lexan lens for an impenetrable, waterproof housing. KC C-Series Area lights are built to last, utilizing advanced Dual Heat-Sink design for maximum heat dissipation to ensure optimum light performance for up to 50,000 hours.