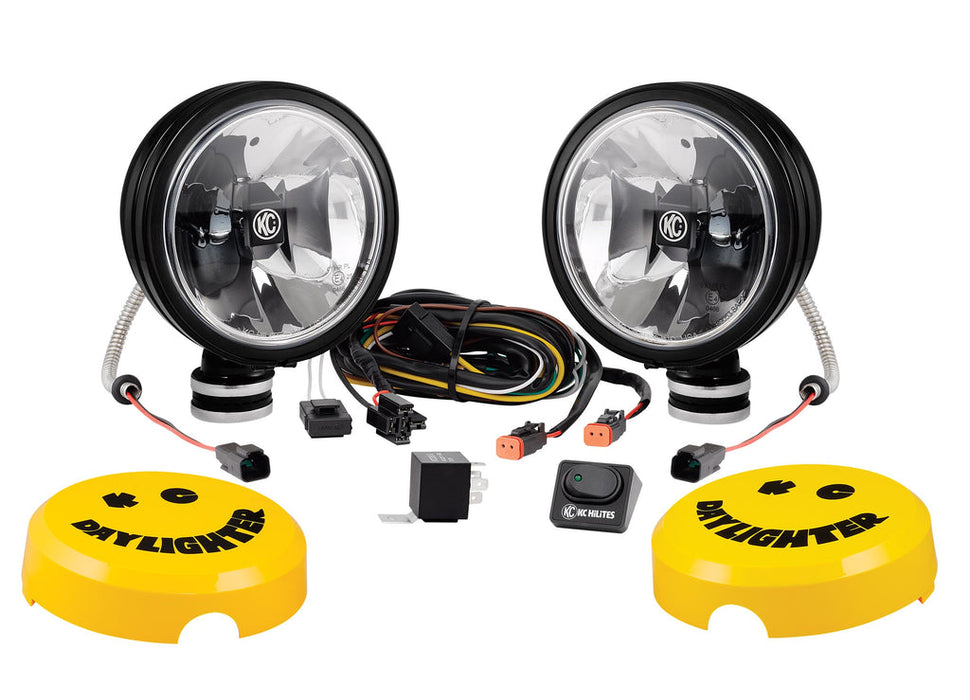 6" DAYLIGHTER GRAVITY® LED - 2-LIGHT SYSTEM - SAE/ECE - 20W DRIVING BEAM - #653
FEATURES
-2 x 20W Gravity® LED G6 optical inserts
-Black Powder Coated Steel housing
-Hard Coated Polycarbonate Lens
-Driving Beam Pattern
LIGHT PERFORMANCE (PER LIGHT)
-Raw Lumens: 2,300 lm
-Lux @ 10 Meters: 1,310 lx
-Candela: 131,000 cd
-Beam Distance (Meters): 724m
SPECIFICATIONS (PER LIGHT)
-Wattage: 20W
-LED Source: CREE XPL HD LED
-Amp Draw: 1.63A
-Voltage: 9V-32V
-IP Rating: IP67
-Product Dimensions: W - 6.22" x H - 8.42" x D - 5.38"
PARTS INCLUDED
-(2) 20W 6" Gravity® LED Daylighter lights
-Deluxe Wiring Harness w/ 2-Pin weatherproof connectors
-(2) Protective KC Daylighter light Guards
-30A Illuminated Switch w/ Switch Panel
GRAVITY® GRD EXTREME OUTPUT AND EFFICIENCY
Gravity® Daylighters are powered by our G6 LED optical inserts which deliver an incredible 1,310 lx @10m using only 1.63A per light. Our patented GRD (Gravity® Reflective Diode) system aims the LEDs into the precision reflectors to capture all the light and project it forward.
AVAILABLE BEAM PATTERN AND ADVANTAGES
Driving Beam - SAE & ECE street legal beams provide added peripheral visibility and while reaching further than stock lights.
ADJUSTABLE MOUNTING FOR ACCURACY AND PRECISION
Our time-tested Daylighter shock mount system is resilient and allows users to accurately aim the lights ensuring beam stability and consistency.
RACE PROVEN STRENGTH & DURABILITY
The race-proven steel housing combined with our IP67 rated Gravity® G6 LED optical insert creates an extremely strong and durable combination that will withstand the harshest of environments and terrains.