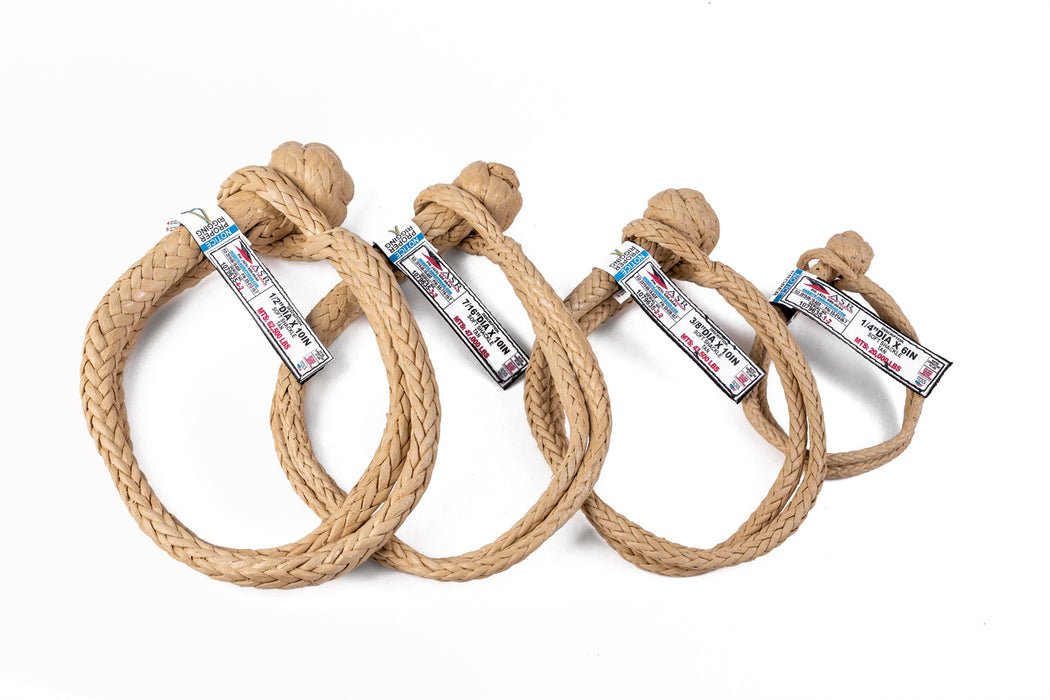 Made in the USA in an ISO 9001:2008 certified facility. ASR's Flex Soft Shackles are made from Plasma rope, the highest strength synthetic rope available - they feature the same design as the ASR Extreme Soft Shackle, simply without the additional protection of a braided guard on the body of the shackle. This makes the Flex Shackle lighter and more flexible while still retaining excellent durability, thanks to a tough exterior polymeric coating on top of Plasma, which has the best abrasion resistance of any synthetic fiber made. 
Flex Soft Shackles are stronger and much lighter than comparable steel shackles - they are so light that they float - and they will not rust. There is no stronger Soft Shackle on the market. Applications include: 4x4 off-road/vehicle recovery, towing, military, agriculture & mining equipment and various marine activities. Flex Soft Shackles can be washed off with water and air dried. This item is manufactured and tested in conformance with API Q1 Specification standards. Although Plasma fibers are stronger than steel, they are susceptible to wear and cutting - always inspect shackle before use for excess wear, cutting, or worn and frayed areas.
Please allow additional time for complimentary colored shackle orders.
| | | | |
| --- | --- | --- | --- |
| Diameter | Length | Breaking Strength | Working Load Limit |
| 3/8" | 10" | 35,000 lbs | 8,700 lbs |
| 7/16" | 10" | 42,000 lbs | 9,400 lbs |
| 1/2" | 10" | 62,600 lbs | 12,500 lbs |
| 5/8" | 18" | 102,800 lbs | 20,500 lbs |
| 3/4" | 18" | 137,000 lbs | 27,400 lbs |
| 7/8" | 24" | 185,200 lbs | 37,000 lbs |