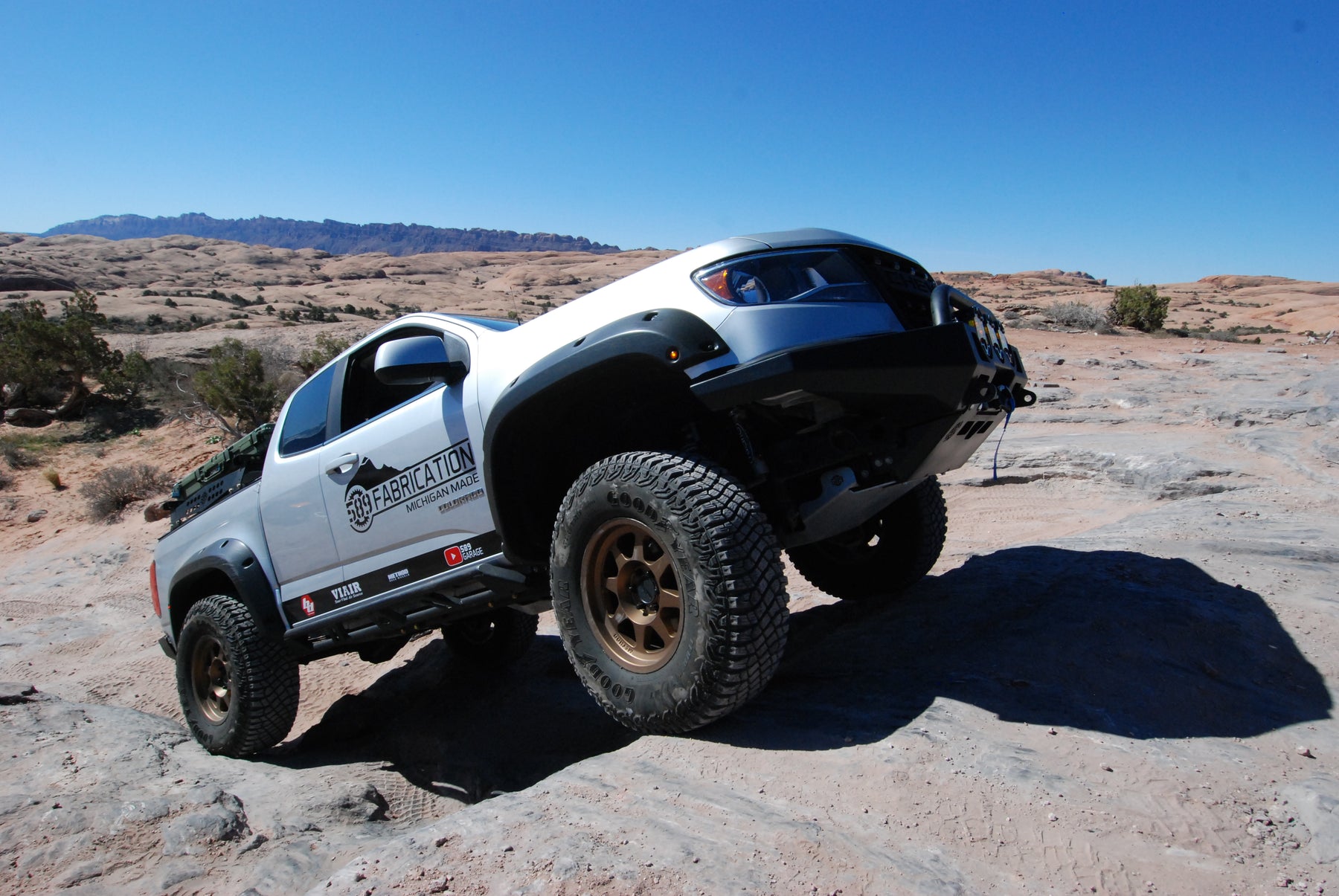 4 Days in Moab, UT! Day 1.5
Our 2018 Colorado started life out as
an Extended Cab with a 6ft bed. Over the last year, we have transformed it into the Ultimate Colorado to tackle any trail we could throw at it. We started by shortening the frame 13 inches, along with the bed, to give us a wheelbase that is very close to a 4 door Wrangler. This really helps with break over angles, rear drive shaft protection, turning radius and maneuverability on the trails. Next up, we tossed a set of AEV HighMark fender flares on, paired with 315/70r17 GoodYear Territory M/T tires. To compliment the bigger tires and added clearance, a full ZR2 suspension and front Eaton E-locker was swapped in. 
To round out the build,
we tossed on a slew of new parts, including:
Rallye Fighter front bumper, fitted with 3 Baja Designs LP6 lights.
High Clearance rear bumper, fitted with Baja Designs S2 back up lights.
VIAIR's new VMS Dual Compressor kit along with our new VIAIR specific Colorado/Canyon Mount (more info coming soon!) 
Ultimate Skid plates
Adventure Rack with two large cases, holding tools and recovery gear (so convenient to access!)
We drove our Colorado 1800 miles
from Fenton, MI to Moab, UT. We arrived in Moab late Wednesday evening and the adventure started as soon we got there. Eaton, the company that makes the OEM lockers in the ZR2's, reached out to us and urgently needed some parts for their 2017 ZR2. They had broken a tie rod on the trail. They were fortunate enough to find a replacement tie rod but were hesitant to hit the trails again without some upgrades, after a lengthy recovery. Luckily, we had packed some extra tie rod sleeves and a tie rod wrench that let us get them back on the trail with confidence! 
Day 1, Hells Revenge
Bright and early Thursday morning we met up with other SEMA members, specifically in the Truck and Off-road Alliance group. We had several members of the SEMA team, along with a bunch of other SEMA supporting manufacturers/retailers. The trail for the day was Hells Revenge. This iconic trail is rated a 6 out of 10, by the Red Rock 4 wheelers club, recommending 35-inch tires, front and rear lockers and a winch. The RR4W club is an amazing organization that keeps Moab trail clean, maintained, open and hosts the famous Easter Jeep Safari that we are attending. Check them out here RR4W
Hells Revenge starts only a couple miles out of town, entering through the Sand Flats Recreation area. There is a $5 daily fee to enter this area. This 6.5-mile-long trail starts off with a steep narrow climb that has you seeing the sky on all sides. The climb is reminiscent of the infamous Lions back, that closed to public access back in 2004, however much smaller. Mostly consisting of slick rock and occasional sand, the traction offered is unbelievable. The slick rock is often referred to being the same grit as 85 grit sandpaper. With occasional use of the front locker, we were able to crawl up every ledge easily and had no trouble following the Jeeps and Broncos on 37s in the group. The trail is full of steep climbs, cliff edges only feet away and amazing views all around. With a solid built truck or Jeep, the difficulty doesn't come from the trail or obstacles, rather the mind over matter it takes to ignore that inner voice telling you that edge is closer than it is. The death-defying cliffs, narrow spine-like passages and the steep climbs/descends make visibility of the ground almost impossible. A good spotter is highly recommended for this trail.
Roughly halfway through the trail, you end up at the "internet famous" Hells Gate. This long and steep V-notch climb offers a unique challenge for drivers and tests your skills in picking the right line. Though the obstacle is optional, many choose to run it for the epic photo opportunity and bragging rights. Along most of the Jeeps, a bronco on 37's in our group opted to give it a shot and dropped a tire off the line, down into the v-notch, snapping an inner tie rod in the process. With a winch that wasn't cooperating, the recovery became lengthy using multiple Jeeps and their winches to help bring the Bronco back down to the ground. A small group stayed behind to help repair the Bronco and get them off the trail safely.
After the lengthy recovery of the Bronco we opted to not run the obstacle and keep the group moving. From Hells Gate, the trail loops back around bringing you back to the same trail head that you start from. Along the route back you'll pass some of Moab's most famous obstacles like Mickeys Hot Tub and Escalator. Adding in these obstacles, bumps the trails rating up to 8.
Overall, Hells Revenge is a must do trail! The amazing views, close proximity to town and insanely fun obstacles made this trail a highlight of our trip.
Stay tuned for next week where we tackle the Top of the World Trail, solo…