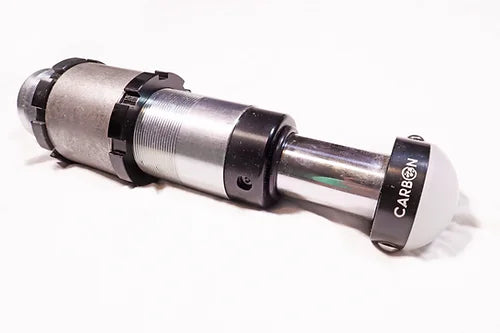 2.0 Hydraulic Threaded Bumpstop 2" Travel
Carbon Shock Technologies Threaded BumpstopsCarbon Shock bumps are manufactured from a solid Billet Steel body as one piece. Carbon Shock technologies bumps are designed to handle abuse in the most extreme circumstances. Threaded Bumpstops are stronger than a traditional pinch can and do not have an issue with overtightening the Bumpstop body causing internal issue. Threaded bump stops utilize dual locking rings with Jam nut to hold the bump in place. With 3" of adjustability these Bumps allow you to dial in your bump zone with precision.
Bump Dimensions & Travel
2" X 2"
TravelCompressed - 6.25"
Extended - 8.25"
INFO:
Shaft Material - Induction Hardened Chrome Plated – 1050 Steel HRc 60-72 (Min Yield 100K)Carbon Shock Technologies Bumps are Pressure tested to 300PSI for 24 hours to ensure proper manufacturing QABumps Require a Nitrogen Charge of 115-200 PSI.Ideal Charge for Shocks is 115PSI of Nitrogen.Shock Oil Used is a locally Sourced Titan 10W extreme temp Shock oil.All Carbon Shock Technology are backed by 6 Month warranty against manufacture defects.
***Cans and Mounts Sold Separately***
**Sold as a quantity of one bumpstop**