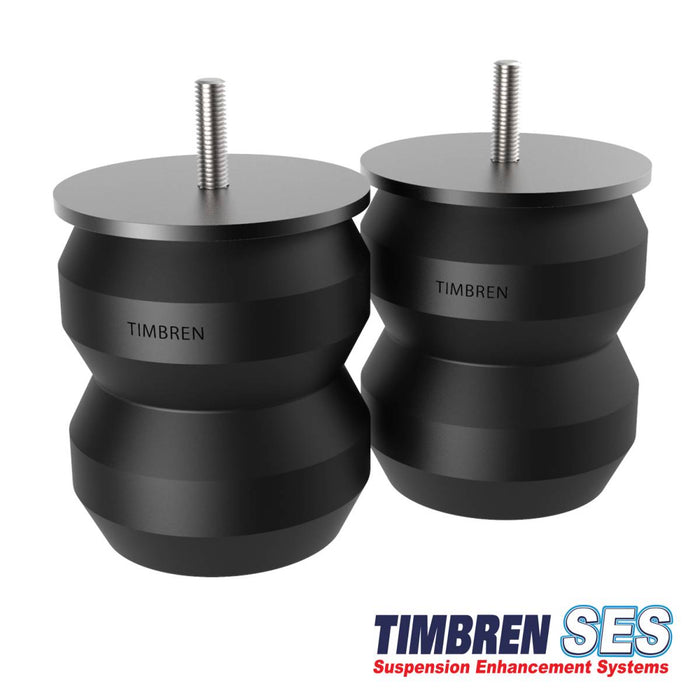 Rear Axle Timbren SES Suspension Upgrade (Silverado)
GMRCK15S - Rear Axle Timbren SES Suspension Upgrade
This SES Suspension Upgrade fits the rear suspension of a Chevrolet Silverado 1500 & GMC Sierra 1500 pickup truck. Each laser cut piece of steel is precision bent and powder-coated to ensure a quality fit. We've engineered our hollow rubber springs to deliver a progressive spring rate. In other words, the more weight that pushes down on the rubber springs the harder they work to prevent rear end sag. Whether you're pulling a trailer or carrying a heavy load in the bed of your truck, our hollow rubber springs adjust automatically to keep the vehicle level at all times.
We designed each SES Suspension Upgrade to provide superb ride quality – loaded or unloaded. (There should be a ½" to 1 ½" gap between rubber spring and axle to ensure unloaded ride quality.) Unlike other auxiliary spring systems, the SES Suspension Upgrade guarantees the best of both worlds.
*GMRCK15S only fits models with the standard suspension package. This kit does not fit models with Magneride suspension or Adaptive Ride Control suspension packages. If your vehicle is equipped with Magneride suspension use part# GMRCK15MR. If your vehicle is equipped with Adaptive Ride Control use part# GMR15MR. For a complete listing please refer to the FITMENT tab below.
This kit is rated at 8600 lbs capacity. Even though you're increasing the spring rate by adding this upgrade, this does not increase the GVWR (Gross Vehicle Weight Rating). Please make sure that the load does not exceed the GVWR set by the manufacturer.