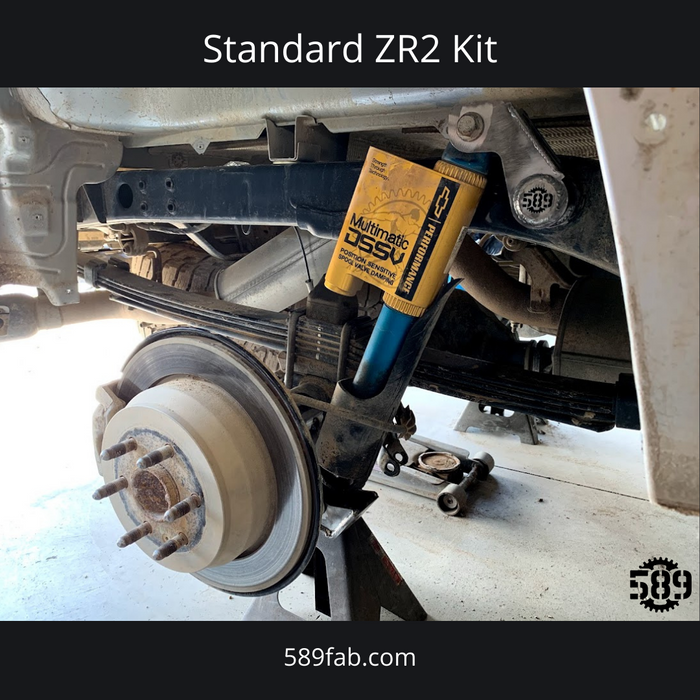 Rear Shock Relocation Kit (2015-22 Colorado/Canyon)
Moves the rear shocks to the outside of the frame, and raises them up to keep them out of harms way.
Non-ZR2 trucks: The ZR2 rear axle is around 1-3/4 inches wider on each side, vs the standard trucks. This extra space is needed to fit the shocks. We recommend running a narrow tire in the 10.50 - 11.50 inch width range, but a 12.50 can fit with proper wheels and spacers. We cannot test for every single wheel and tire combination, but here is what we know works:
Stock Wheels: 
Up to a 285/70r17 - Require 2 inch wheel spacers
17x8 0mm offset wheels:
Up to a 35x12.50R17 (315x70r17) - Require 1-1/2 - 2 inch wheel spacers
17x9 -12mm offset wheels: 
Up to a 35x11.50r17 - Require 1 - 1-1/4 inch wheel spacers
ZR2 Trucks: We recommend +25 to 0 offset wheel with tires larger than the factory size.
Fits 2015-22 Colorado and Canyon
Sold in pairs
Maintains the shocks factory length and angles
Moves the shocks closer to the tires
Raises the lower shock mounts nearly 2 inches while out-boarding them
Built in shock skid in lower mount for added protection
Kit ships textured black powder coat
Cutting and welding required! (Welding should be done by a qualified welder with knowledge of welding on modern automobiles)
Works with stock wheel/factory tire size
Recommend +25 to 0 offset wheel with tires larger than

factory size

BDS Kit required for Trucks with 4" BDS Lift kit only 
Modifications required for use with GMPP Rear Jounce Shocks
For off-road use only
Please allow 10-15 business days for shipping
Made in the USA