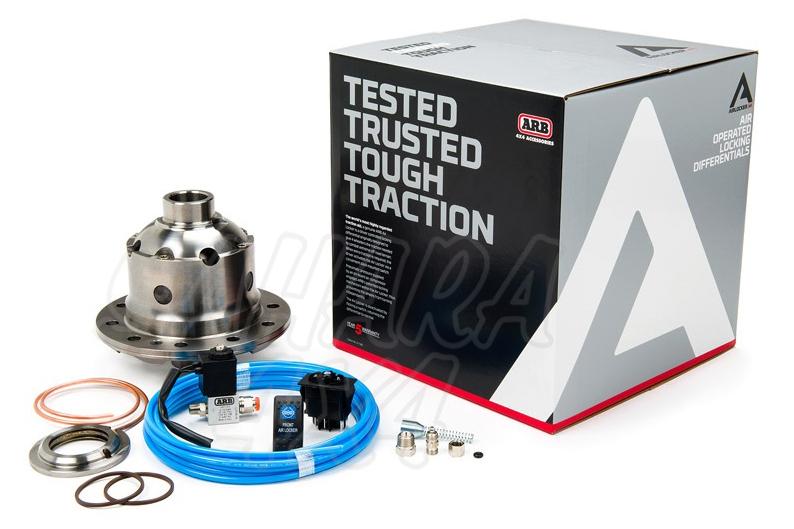 2019-2021 Ford Ranger ARB Air Locker Locking Front Differential (IFS 29 Spline) RD219
Highlights:
100% traction on demand
Does not affect drivability or driveline wear
Ultra-durable, high-quality construction
Features aluminum clamshell design
Minimal moving parts
Easy installation & maintenance
5-Year Limited Warranty
Allows for Full Locking and Unlocking of your Ranger's Front End at Will
Being able to selectively lock and unlock your 2019-2021 Ford Ranger's front end is an absolute God-send for aggressive trucks that see both on-road driving applications and extreme off-roading, and the ARB Air Locker Locking Front Differential can make it happen. The ARB Air Locker (like its name implies) uses compressed air to lock your Ranger's IFS front end, giving you equal power distribution to both of your Ranger's front tires when you're off the beaten path, all while allowing you to unlock the differential for street driving. The end result is a front differential that can help your truck tackle the toughest off-road applications on the planet, while still allowing you maintain excellent street drivability and fuel economy. The ARB Air Locker Front Differential comes with everything you need to swap out your Ranger's stock differential. All you'll need is an ARB air compressor kit, and you'll be able to get untold off-road traction with OEM on-road ride quality in a single differential kit. Air Lockers use a 12-volt ARB Air Compressor designed to turn and turn off the Air Locker's locking mechanism inside the differential.
Strong, Two-Piece Case Design with Forged Steel Internal Gears
ARB's Air Locker Front Differential was born and bred in the Australian Outback, and features an incredibly durable design that allows it to handle even the most aggressive and tough off-road applications on the planet. The Air Locker is air actuated from your choice of ARB air compressor using an included rocker switch and solenoid system. When activated, the Air Locker's two-piece design slides together to lock your Ranger's front axles together to provide your truck with awesome traction for off-road applications. The aluminum clamshell Air Locker features an incredibly durable construction with fully forged internal gears and a two-piece case design that limits the amount of moving parts for improved reliability and performance over other locking differential designs. Each Air Locker even comes backed by a 5-year limited warranty from ARB with no mileage limit. Each Air Locker Kit comes with everything you need 
except
 for a required on-board air compressor.
Specifications:
Differential:

 

Clamshell
Gear Ratio:

 

all ratios
Axle Splines:

 

29
Ring Gear Bolts:

 

10 (not included)
 Fitment: 2019-21 Ford Ranger
 For IFS 29 Spline Front Ends: this differential only fits Ford 29 Spline Front IFS applications like those found on the fronts of 2019-2021 Ford Ranger models.
Compressor Not Included: this differential does not come with an air compressor, and one of the following ARB Air Compressors will be required for installation and operation:
ARB Compact Air Compressor Kit:

 

provides adequate airflow for Air Locker operation, and can be used for up to two ARB Air Lockers.
ARB High-Output Air Compressor Kit:

 

provides excellent airflow and can support up to two Air Lockers, as well as handle tire inflation and light-duty air tools if paired with an air tank. Also features a waterproof design.
ARB Dual High-Output Air Compressor Kit:

 

provides huge amounts of airflow, and can support the inflation of extremely large tires or handle consistent air tool use when paired with a tank.

 

Does not include an ARB Air Locker Manifold System, and one will need to be purchased separately.