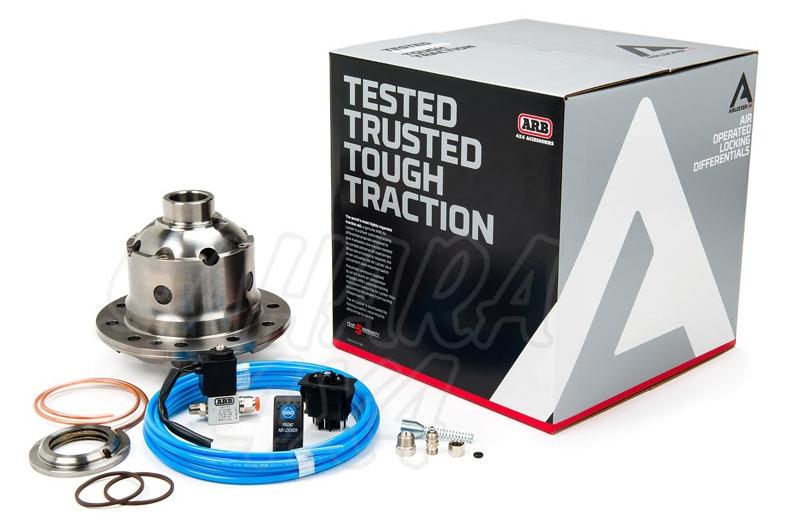 2019-2021 Ford Ranger ARB Air Locker Locking Rear Differential for Dana M220 Axles (OEM Open Diffs Only) RD245
Highlights:
Complete locking rear differential for your Ranger
Air-actuated locker with reliable design
Features forged gears and strong two-piece design
Fits M220 axles and uses 32 spline
Quiet operation with smooth, fast action
Backed by a 5-year limited warranty
Requires ARB compressor and manifold
New gears and master install kit recommended
Instant, Quiet Locking of your Rear Differential in a Durable Package
The 2019-2021 Ford Ranger may be a capable truck, but the version with an OEM open differential on their rear ends are a pretty big disadvantage over their eLocker equipped counterparts. ARB's M220 32 spline Rear Air Locker Locking Differential is here to help your 2019-2021 Ranger bridge the gap and get the off-road traction and handling that your Ranger needs to conquer the trails. ARB's Air Locker uses compressed air to actuate its heavy-duty locking mechanism so that your aggressive Ranger gets instant, seamless locker operation at the flip of a switch. Unlike Rangers equipped with the stock elocker, the ARB Air Locker doesn't unlock over a certain speed, allowing you to rip around off-road as fast as you please with your rear locker activated. The ARB Air Locker features extremely fast, quiet, and smooth operation in an extremely strong and reliable package that won't let you or your Ranger down when you head off the beaten path.
Durable Forged Gears and Two-Piece Design with Heavy-Duty Machined Case and Flange
The ARB Air Locker is built to handle the toughest trails out on the planet while utilizing a straightforward internal design to provide reliable and smooth operation in any application. Each ARB Air Locker is built around extremely strong forged gears that are each precisely machined to provide your Ranger's rear end with unmatched levels of durability while still providing smooth and quiet operation even when the differential is locked. ARB's Air Locker for the 2019-2021 Rangers uses a wave spring internal design with 12 return springs that generate extremely fast unlocking while being more mechanically simple and reliable than more complex actuators. Each differential features a two-piece design with a fully-machined differential case made out of high-strength nodular iron and an equally durable flange assembly that helps support the internal gearing and promote excellent levels of torque handling. For operation, all you'll need is your choice of ARB compressor and an ARB manifold kit. However, we also recommend replacement gears and a suitable install kit, since the stock ring gear is welded to the OEM differential. ARB backs their Air Locker with an unprecedented 5-year limited warranty.
Fitment:
 2019-2021 Ranger with OEM Open Rear Differential
OEM eLocker Fitment:
 this differential will technically fit a 2019-2021 Ranger equipped with a stock eLocker. However, the ARB Air Locker is not compatible with the axle shafts of Rangers equipped with stock eLockers, and you will require rear axle shafts meant for Rangers with OEM open differentials.
M220 Axle Note:
 This 32 spline M220 air locker is designed for an M220 axle. A 29 spline M200 
version
 is also available. 
Please confirm your Ranger's rear axle before ordering.