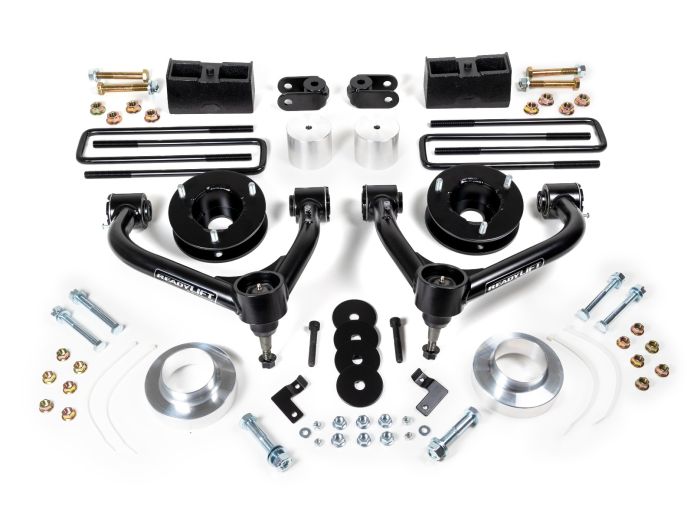 4.0" SST Lift Kit- GM 1500 4WD 2019-2022
QUICK OVERVIEW
2019-2022 Chevy Silverado/GMC Sierra 1500 4" SST Lift Kit. 4" Lift Front/3" lift Rear. 20x9 0 offset 295/65 R20 - Chevy Max tire size. 20x9 0 offset 295/55-R20 - GMC Max tire size No cutting or modifications are required. Increase ground clearance while maintaining the factory ride and handling. Include DOM tube steel upper control arms with heavy-duty ball joints and TCT maintenance-free pivot bushings. Note: Use of Auto 4 Hi feature is not recommended. Note: Not compatible Trail Boss, ZR2, and AT4 / AT4X, and 2019 classic body LD or Limited. NOT COMPATIBLE with vehicles equipped with rear composite mono-leaf springs
DETAILS
ReadyLIFT is excited to announce our all-new 69-39400 4'¬ SST Lift Kit for the 2019-2022 Chevy Silverado and GMC Sierra 1500 with exclusive components making the kit compatible with available Adaptive Ride Control Suspension (ARC)! The new 69-39400 will replace the 69-3940 and works on trucks with or without ARC. The new 69-39400 SST Lift Kit provides a great lift solution to achieve an aggressive yet daily drivable lifted stance while still maintaining the important factory ride and handling.

ReadyLIFT offers a no-cut 4.0" SST lift kit for the 2019-2022 GM 1500 trucks! This new SST lift kit provides 4" of front lift and includes a 3" rear lift block. Front lift is achieved with heavy-duty laser-cut fabricated steel top mount strut extension with an offset design to correct the strut and wiper seal angles. A CNC-machined billet Aluminum pre-load spacer is also included. Combined this configuration provides 4 inches of front lift with minor design variations to improve driveline orientation over the previous 69-3940. 69-39400 can easily allow for up to a 295/65-20 tire as shown here with XD Series Demodog 20x9 0 offset wheels (35x11.50 max). This kit provides the right amount of lift without exceeding the CV limits working within the OEM tolerances. (GMC Sierra can only fit up to a 295/55-20 tire due to fender flare wheel well restrictions.)

This all-new, no-cut kit includes new tubular steel upper control arms with optimized ball joint pivot angles and maintenance-free TCT pivot bushings. The new upper control arms are an essential component of our new 4" SST Lift Kit to ensure proper suspension geometry.

For the rear, we include our popular time-tested 3" tall OE-style cast iron rear lift blocks with built-in axle pad locating ears and new longer U-bolts. With the 3" rear blocks, this new GM 1500 truck will have a very subtle rake that looks great with the all-new GM body lines even while towing or hauling payload.

Note: This kit is not compatible with Trail Boss, ZR2, AT4, or AT4X.

Note: This GM 1500 kit is NOT COMPATIBLE with vehicles equipped with rear composite mono-leaf springs. The mono-leaf is easily identifiable '¬ the U-bolt is round/circular around the top of the leaf spring. This kit only works with vehicles equipped with traditional steel leaf springs '¬ identified by '¬Ëœsquare'¬" U-bolts.

Note: Use of Auto 4 Hi feature is not recommended.

Note: Not compatible with 2019 Limited OLD Body Style.

Note: NOT intended for off-road use or abuse.
TIRE FITMENT

20x9 0 offset 295/65 R20 - Chevy Max tire size.

20x9 0 offset 295/55-R20 - GMC Max tire size

Note: some trimming may be required depending on tire tread design.

Tire Size Note: ReadyLIFT wheel and tire fitment recommendations are typically based on Wheel Pros wheels and Nitto tires. Due to product differences among tire manufacturers, tire specifications and dimensions including, but limited to, overall diameter, rolling diameter, tread width, aspect ratio, lug pattern, sidewall construction and inflation pressure, will vary meaningfully by tire and wheel manufacturer. Every tire and wheel combination should be test fit prior to installation. Consult your local installer to learn more about the right tire fitment for your application.

Ride Quality Note: When lifting a vehicle and installing aftermarket wheels and tires, a tire manufacturer's construction and material quality can alter vehicle ride quality. When increasing a vehicle wheel and tire size, most larger aftermarket truck and SUV tires are 10-ply (or more) E tires compared to typical OEM 6-ply C tires. This more rigid sidewall construction increases the perception of suspension stiffness often described as ride harshness. The ride, handling, traction, noise, fuel economy, and wear differences between All-Season, All-Terrain, Mud-Terrain, or Trail-Terrain type tires can be significant. Please take into account tire and wheel choice will generally have a meaningful impact on the ride & handling experience.
KIT COMPONENTS
2- UCA with maintenance free TCT pivot bushings, heavy-duty ball joints, and with ARC adaptor
2- Fab steel heavy-duty strut extensions
2- CNC machined billet aluminum spring pre-load spacers
4- Laser Cut Washers
3" Cast Block w/ U-Bolts
ARC Relocation Bracket'