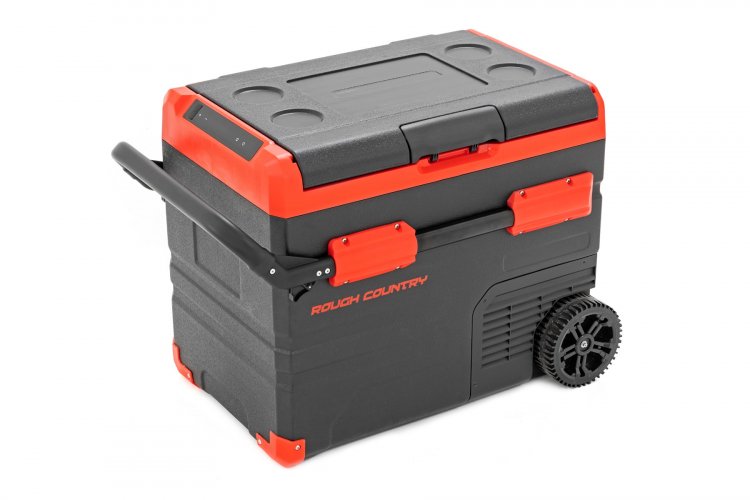 50L Portable Refrigerator/Freezer | Rechargeable | 12 Volt/AC 110
OVERVIEW
Your newest companion. Whether you're tailgating or riding the trails, you'll never have to worry about your necessities getting warm again when you bring along our new portable refrigerator/freezer cooler. Rough Country's 50L Portable Refrigerator/Freezer features a large 50L capacity, so you can take enough frozen treats for the whole trip and keep it cold for up to 24 hours.
Innovative Design. This isn't just your average electric cooler. With a shockproof, durable design, heavy-duty wheels, and telescoping handle, it's easy to take wherever you go - even if that happens to be down a rough dirt road. A reversible fridge door design lets you use it as a fridge or freezer, while our three-stage battery protection system ensures that your vehicle battery will stay charged. Plus, the eco and max cool options let you choose how quickly you want your food to cool. It even has a built-in LED light for late-night snacking!
Warranty. Rough Country's 50L Portable Refrigerator/Freezer comes with 1-year Limited Manufacturer's Warranty. As such, the product is protected from structural and workmanship damage after the date of purchase. With our industry-leading warranty, give yourself peace of mind when using Rough Country's products!
FEATURES
Exterior Dimensions: (27.5" long, 18" wide, 20" tall)
Large 50L Capacity.
Large Side handles.
Heavy Duty Wheels.
Stays cool on battery for up to 24 hours.
Long telescoping handle for easy transport.
Reversible Fridge Door Design for flexible use.
Three Stage battery protection system protection for vehicle battery.
Shockproof, durable design for rough terrain.
Easy Temperature adjustment using LED touch display.
Eco or Max cool options for slow or quick cooling.
Convenient cutting board included.
Battery lasts for 4-24 hours depending on the temperature setting desired and environment.
Built-in LED.
IN THE BOX
50L Refrigerator
DC Power Cord
Adapter for AC Power
Removable Basket