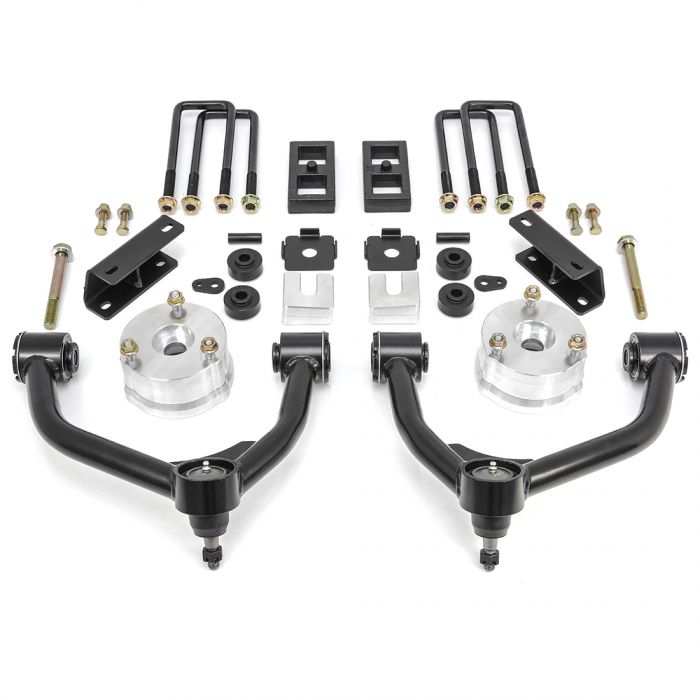 3.5" SST Lift Kit- Colorado/Canyon 2015-2022
QUICK OVERVIEW
2015-2022 Chevy Colorado / GMC Canyon 3.5" SST Lift Kit NOTE: Excludes ZR2 Edition and DIESEL applications 3.5" Front/1" Rear Made in USA Increase ground clearance Maintains factory ride and handling Includes heavy-duty DOM tube steel upper control arms with heavy-duty 1-ton ball joints and TCT maintenance free pivot bushings No cutting, No mods required NOTE: For gasoline engine applications only. Kit not recommended for diesel applications.
DETAILS
ReadyLIFT now offers a 3.5" SST lift kit for the 2015-2022 Chevy Colorado and GMC Canyon 2WD/4WD trucks! The 69-3535 SST Lift Kit provides a great lift solution to achieve a mild yet aggressive lifted stance while still maintaining important factory ride and handling. (This kit is not compatible with ZR2 edition or diesel engine applications..) This new lift kit provides 3.5" of front lift and 1" of rear lift for a nice level but lifted stance. This kit can easily allow for up to a 285/70-17 tire as shown here with XD Series Wheels Addict II 17x9 +18 offset wheels. This all-new no-cut kit includes new tubular steel upper control arms with adjusted ball joint pivot angles and establishes a true 3.5 inches of lift without compromising suspension or drive train geometry. Front lift includes our proprietary top hat replacement technology along with differential drop brackets, sway bar drop brackets and OE style 1'¬ tall cast iron rear lift blocks. Features & Benefits '¬ Made in USA. '¬ The perfect mild lift solution for Gen 2 Colorado/Canyon'¬"s that provides a great looking aggressive stance with a slight rake. '¬ Includes CNC-machined aircraft-grade billet Aluminum front top hat replacement lift spacers and heavy-duty OEM style cast iron rear blocks. '¬ Includes tubular steel upper control arms with adjusted ball joint pivot angles housing a heavy-duty ball joint. '¬ Allows for up to a 32.5x11.50" tire on up to +18 offset wheels. (285/70-17) '¬ Maintains the factory ride, handling and suspension geometry. '¬ Unmatched curb-appeal and rugged mid-size truck capability delivered in an affordable yet innovative Smart Suspension Technology "no-cut" lift kit. NOTE: Use of Auto 4 Hi feature not recommended. NOTE: For gasoline engine applications only. Kit not recommended for diesel applications.
TIRE FITMENT

Allows for up to 17x9 +18 wheel - 285/70R17 tire

285/60-20 max with trimming.

Tire Size Note: ReadyLIFT wheel and tire fitment recommendations are typically based on Wheel Pros wheels and Nitto tires. Due to product differences among tire manufacturers, tire specifications and dimensions including, but limited to, overall diameter, rolling diameter, tread width, aspect ratio, lug pattern, sidewall construction and inflation pressure, will vary meaningfully by tire and wheel manufacturer. Every tire and wheel combination should be test fit prior to installation. Consult your local installer to learn more about the right tire fitment for your application.

Ride Quality Note: When lifting a vehicle and installing aftermarket wheels and tires, a tire manufacturer's construction and material quality can alter vehicle ride quality. When increasing a vehicle wheel and tire size, most larger aftermarket truck and SUV tires are 10-ply (or more) E tires compared to typical OEM 6-ply C tires. This more rigid sidewall construction increases the perception of suspension stiffness often described as ride harshness. The ride, handling, traction, noise, fuel economy, and wear differences between All-Season, All-Terrain, Mud-Terrain, or Trail-Terrain type tires can be significant. Please take into account tire and wheel choice will generally have a meaningful impact on the ride & handling experience.
KIT COMPONENTS
2- UCA with TCT maintenance free pivot bushings and HD ball joints
2- Replacement Strut Top Hat
2- Front Diff Spacers
2- Diff Spacer retainer plates
1- Driver Sway Bar Drop
1- Passenger Sway Bar Drop'
2- Laser Cut Washers
1" Cast Block w/ U-Bolts