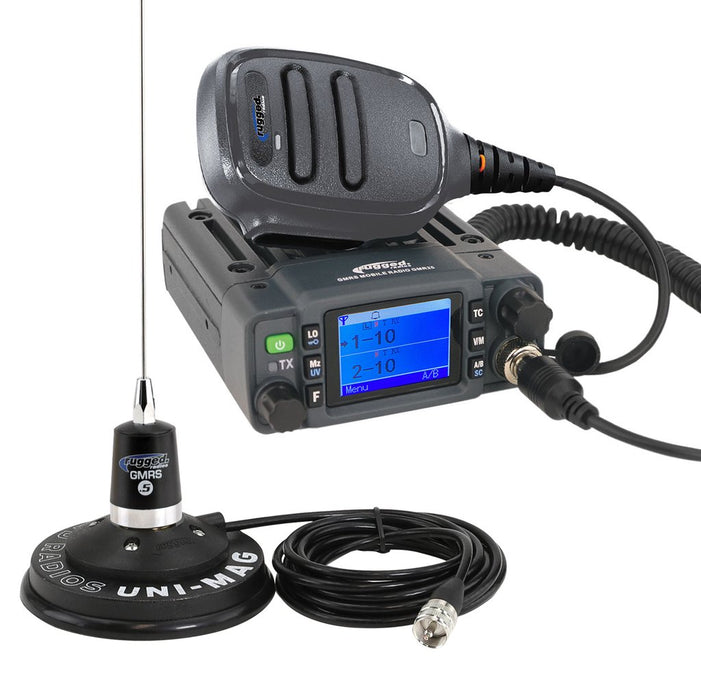 Radio Kit - GMR25 Waterproof GMRS Band Mobile Radio with Antenna
Complete Radio kit includes:
Waterproof GMRS 25-watt radio
UNI-MAG antenna mount
Point-5 GMRS Antenna
Keypad hand mic
Description
Complete radio kit features the waterproof GMRS 25-watt radio, UNI-MAG antenna mount, and Point-5 GMRS Antenna. 
Features multiple pre-programmed channels, 8 repeater channels and 15 GMRS channels.

The GMR25 with 10-12 mile range instantly connects to most GMRS radios providing even more flexibility on the trail.
Easily connect to a Rugged Radios intercom with the built-in radio cable. 

GMRS License is required and easy to get: Click here.
Radio Dimensions: 4-3/16"W x 5"D x 1-9/16"H
What's Included
Waterproof GMR25 Mobile Radio
UNI-MAG, magnetic / universal antenna mount
Point-5 1/2 wave UHF antenna
Hand mic with Scosche Magic Mount
Scosche Magnetic hand mic hanger
Universal mounting bracket and hardware
Power cable with fuse