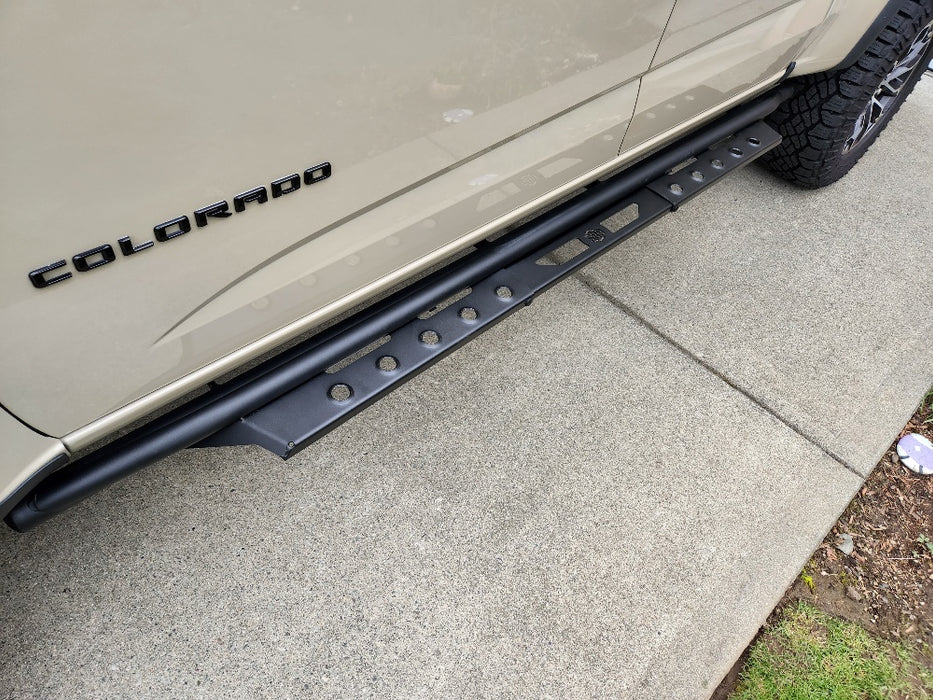 Slider Steps (2015-22 Colorado/Canyon)
Slider Steps are now available as Back Order. These will have an extended lead time. We have new equipment coming to help produce these. Due to the extended lead times, we are selling these at 20% off! Expected ship date is early February 2024.  
Want to keep the factory rock slider, but need a step? We have the perfect solution. Our new three piece, 3" wide, bolt on step mounts to your existing factory rock slider. No loss of ground clearance with them mounted, and the ability to maintain the full function of your rock slider by easily unbolting the step before going off-road. These 3" steps are made from laser cut and CNC bent 1/8" steel. Featuring integrated dimpled tread for added traction. All steps will now ship powder coated!
Looking for a different option? Check out our new Modular Slider Steps HERE!
Fits 2015-22 Colorado and Canyon with OEM rock sliders installed

Crew cab and extended cab

Sold in pairs
Steps ship textured black powder coat
Requires drilling
All hardware included
Designed for off-road use only. Use at your own risk
Inventory Status - 

Back Order (Extended Lead Time)

Made in the USA