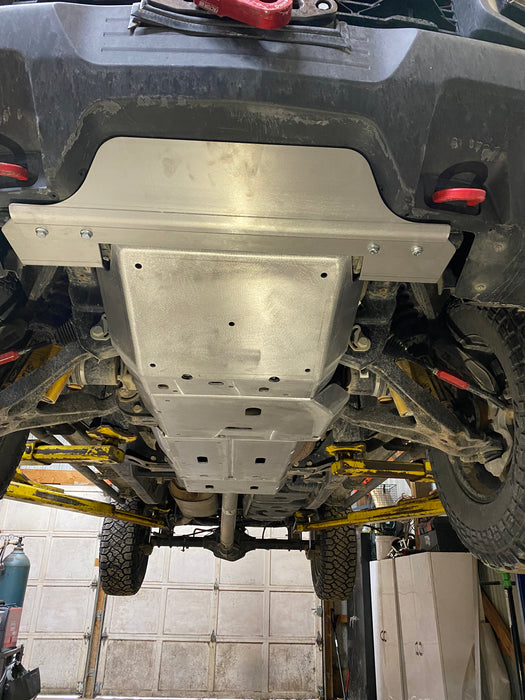 Ultimate Skid Plates (2015-22 Colorado/Canyon)
Introducing our all new Ultimate Skid Plates for Colorado's and Canyon's! 
Our original skid plates stood the test, but these are the ultimate upgrade! Made from 1/4" Aluminum, these all new skid plates offer complete underbody protection while keeping weight down. The Flat Belly design offers your truck a smooth transition from front to back, preventing you from getting hung up when crossing the toughest terrain. 
New Features: 
Laser cut and CNC Formed 1/4 Inch Aluminum Construction
All Fasteners are hidden for ultimate protection
Works with 1 inch front differential drops! No spacers needed
Easy to install
Total weight of 63 pounds!
Flat belly Design 
Two Piece Transmission Skid construction improves rigidity by integrating a strengthening rib down the middle
Wrap around design offers more protection and fills in unsightly gaps
Drain holes to help water and mud to drain from hard to reach areas
Future Features (Coming Soon):
UHMW Skid Liners that bolt to the Ultimate Skid Plates. A First for the Colorado/Canyon Market! UHMW is an ultra tough plastic that reinforces the skid plates and removes the "sticky" nature of softer aluminum when in contact with sharp rocks. Other features include:
Impact cushioning when dropping the belly onto hard surfaces
A sacrificial surface that protects the skids and is easy to replace
Reinforces the Aluminum skid making the overall system more robust
Lightweight 
Slides over sharp obstacles without getting hung up
Same Material that we use on our Ultra4 Racecar at races like King of the Hammers. 
*All Ultimate skids are built ready to accept the new UHMW Liners when available. 
Fits 2015-22 Colorado and Canyon

Fits CCSB, ECLB, and CCLB models

Skids ship bare metal

2015/2016 require drilling for Oil Pan and Transmission Skids. 2017+ Non-ZR2 trucks require a bolt to be ran through the existing holes to cut threads (By GM design)

Skid plates not compatible with lift kits with relocation brackets (BDS, Rough Country, etc)

Designed for off-road use only. Use at your own risk

Inventory Status - 

Built to Order

Skid Plates CANNOT be shipped to PO Boxes

Made in the USA