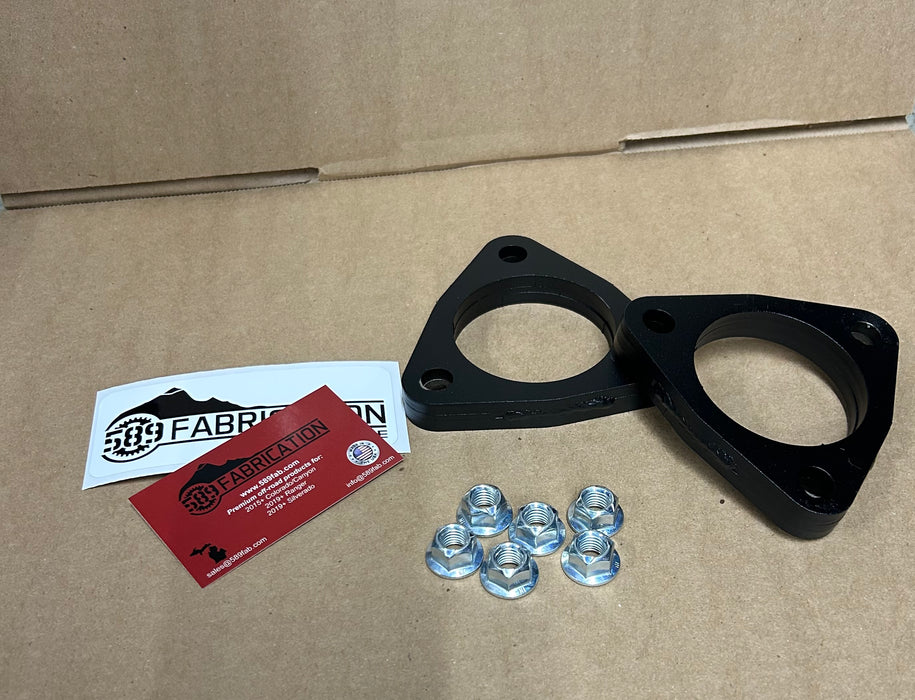 1.25" Leveling Kit (2015-22 Colorado/Canyon/ZR2)
Level that truck and give it that extra clearance needed for a bigger tire.


Build your Level kit, your way:
Choose your Spacer - 
Black Powder Coated Steel
Choose your bump stop - 
None -reuse your factory bump stop
Extended Bump Stop - easy to install, simply replaces your factory bump stop
TIMBREN Active Off-Road Bump Stop
Which Bump stop is right for me?
None - 

Your truck drives perfect the way it is. A level stance and extra clearance is all you need.

You already have other bump stops
Extended Bump Stop - (Recommended)

The extended bump stop offers a longer, progressive rate bump stop. The conical shape of the bump stop gives it a progressive rate, or rather, the bump gets stiffer the further it is compressed. The extended length also allows the bump stop to interact with the lower control arm sooner as the suspension travels up. 
When the bump stop interacts sooner, it offers better stability when cornering and when off road. 
Recommended if you plan to run without a sway bar 
Timbren Active Off-Road Bump Stop - 


Timbren's Active Off-Road Bumpstops were designed to allow for proper deflection of the suspension on rough terrain and provide a damping response when the suspension bottoms out while off-roading. Aeon® rubber springs provide a progressive spring rate that reduces stress on your body and your vehicle. This makes your 4x4 vehicle easier and safer to control while on the trail or on the street.
Adjustable in height, with included spacers, to dial in your set up. 
Pairs well with the rear Timbren Active Off-Road Bump stops for a balanced ride, found here.
Fits 2015-2022 Colorado, Canyon, ZR2 and ZR2 Bison with diesel or gas engines
Easy bolt-on installation
Increased ground clearance
Maintains factory ride quality
Maintains slight front end rake
Kit includes:

5/8" (1.25" lift) black powder coated steel strut spacer or red anodized 6061 aluminum spacer
Hardware
Bump stops if desired

1-2 hour install time
Inventory Status -

In-Stock

 (Some options on back-order)
Made in USA

It is recommended that an alignment is done after installing this kit
Wheel and Tire Specs (some trimming may be required)
Tires: 285/70R17
Wheel BS: Factory