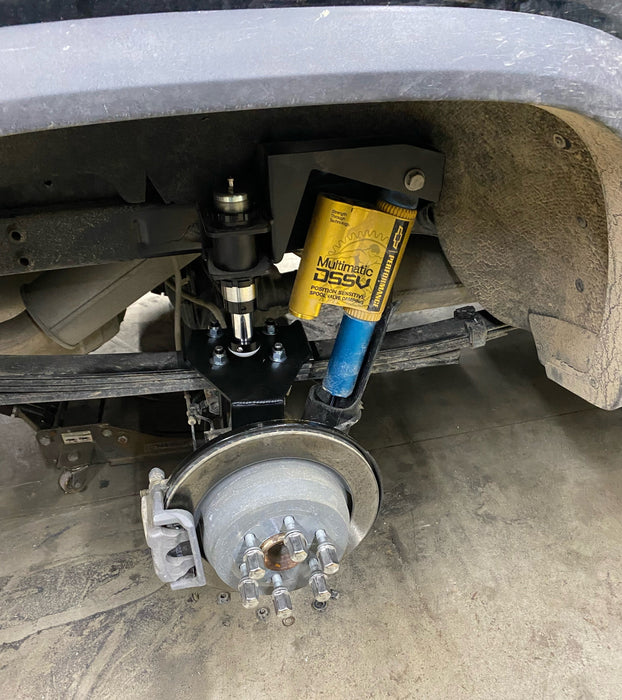 Ultimate ZR2 Rear Shock Relocation Kit (2017-22 Colorado ZR2)
The original Colorado ZR2 rear shock relocation kit just got better! Introducing the Ultimate Rear Shock Relocation kit for 2017-2022 Colorado ZR2's.
Combining three systems into one convenient package that;
Moves the rear shocks to the outside of the frame, raising them up out of harms way. 
Integrates your choice of Timbren Active off-road Bump Stops or Carbon Shock Technologies 2.0x2 Hydraulic Threaded Body Bump Stops for the Ultimate rear suspension bottom out control.
U-bolt flip kit paired with the new striker plate ensures the most clearance and protection under the rear axle. 
The all new upper shock mount now requires no welding to the factory frame. This new design wraps around the frame rail and encases it, creating a very strong mount that also reinforces the frame for the added stresses.  
Along with an all new upper mount, the lower mount has also been redesigned to match the new upper, featuring an integrated shock skid for added protection. Welding still required.
Please note: Hydraulic bump stops can be noisy when off-road, due to the nature of their design. Every time the bump stop contacts the striker pad, you will hear a clunk. This is normal. The Timbren Bump stops will not make any noise, just like stock, if you prefer no noise. 
Carbon Shock Technologies Threaded Bump stops. Carbon Shock bumps are manufactured from a solid Billet Steel body as one piece. Carbon Shock technologies bumps are designed to handle abuse in the most extreme circumstances. Threaded Bump stops are stronger than a traditional pinch can and do not have an issue with overtightening the Bump stop body causing internal issue.
Timbren Active Off-Road Bump stops. Active Off-Road Bump stops have been designed to allow for proper deflection of the suspension while, at the same time, providing a damping response when the suspension bottoms out. Aeon® rubber springs provide a progressive spring rate that reduce stress on your body and your vehicle.
Fits 2017-22 Colorado ZR2 and ZR2 Bison

Does not fit non-ZR2 trucks
Does not fit BDS lifted ZR2's

Sold in pairs
Maintains the shocks factory length and angles
Moves the shocks closer to the tires
Raises the lower shock mounts nearly 2 inches while out-boarding them
Built in shock skid in lower mount for added protection
Kit ships textured black powder coat
Cutting and welding required! (Welding should be done by a qualified welder with knowledge of welding on modern automobiles)
Works with stock wheel/factory tire size
Recommend +25 to 0 offset wheel with tires larger than

factory size

For off-road use only
Please allow 10-15 business days before shipping
Made in the USA